P&O Cruises Summer 2022
Get ready for the launch!
Launch Dates:
Register Your Interest
You can Register your interest from 8.30am - Tuesday 3 November to 8pm - Sunday 8 November 2020
Peninsular Club
If you're a part of the Peninsular Club Launch with tiers Caribbean, Baltic and Ligurian, then you'll be able to book from 8.30am Monday 9 November 2020
On General Sale
If you're looking for a holiday between March and July 2022, then you'll be able to book from 8.30am Wednesday 11 November 2020

If you're looking for a holiday between March and October 2022, then you'll be able to book from 8.30am Thursday 12 November 2020
Reasons to book with Cruise Club UK
Low 5% Deposit
Secure your 2022 Holiday with a low deposit of 5%.
Terms apply.
Up to 10% Discount*
*5% booking discount is applicable to new guests. 10% booking discount is applicable to past guests. Select Price only.
FREE Cruise Vouchers
Exclusively with Cruise Club UK. For every booking you make with Cruise Club UK, you gain a Cruise Rewards Voucher, to be redeemed against your next booking.
Sign up Today!
We guarantee our customers a place booked on their desired cruise before the main P&O Cruises brochure launches. Pre Register today and be the first to receive details on dates/itineraries and exclusive offers for all P&O Cruises sailings. You'll be noticed by email with all the information you'll need for choosing your sailing, cabin, and airport depature. As soon as the 2022 cruises go on sale your dedicated Cruise Club UK agent will book everything for you so you don't miss out!

It's the easiest way to book your P&O Cruises 2022 sailing
Reasons to Pre-Register
Secure the dates and cabins you want
Get the best deals before they go
Guaranteed Lowest Price possible!
Pre-Register Your Interest Today
This will sell out! So make sure to register your interest below, and you'll be the first to access the exclusive deals when they're released.
Brand New Itineraries for 2022
Europe
Norway & Iceland
Canary Islands
Mediterranean
Caribbean & North America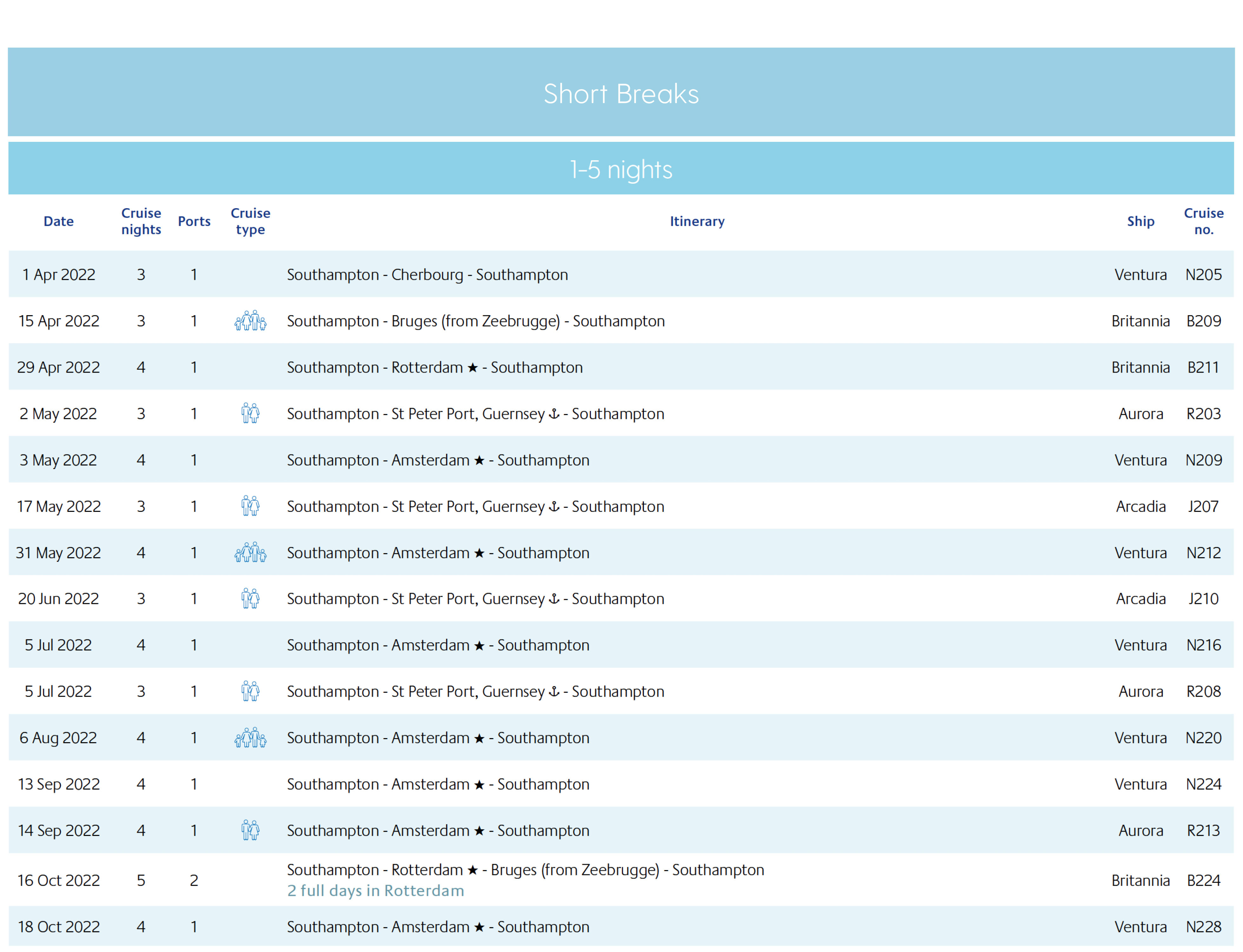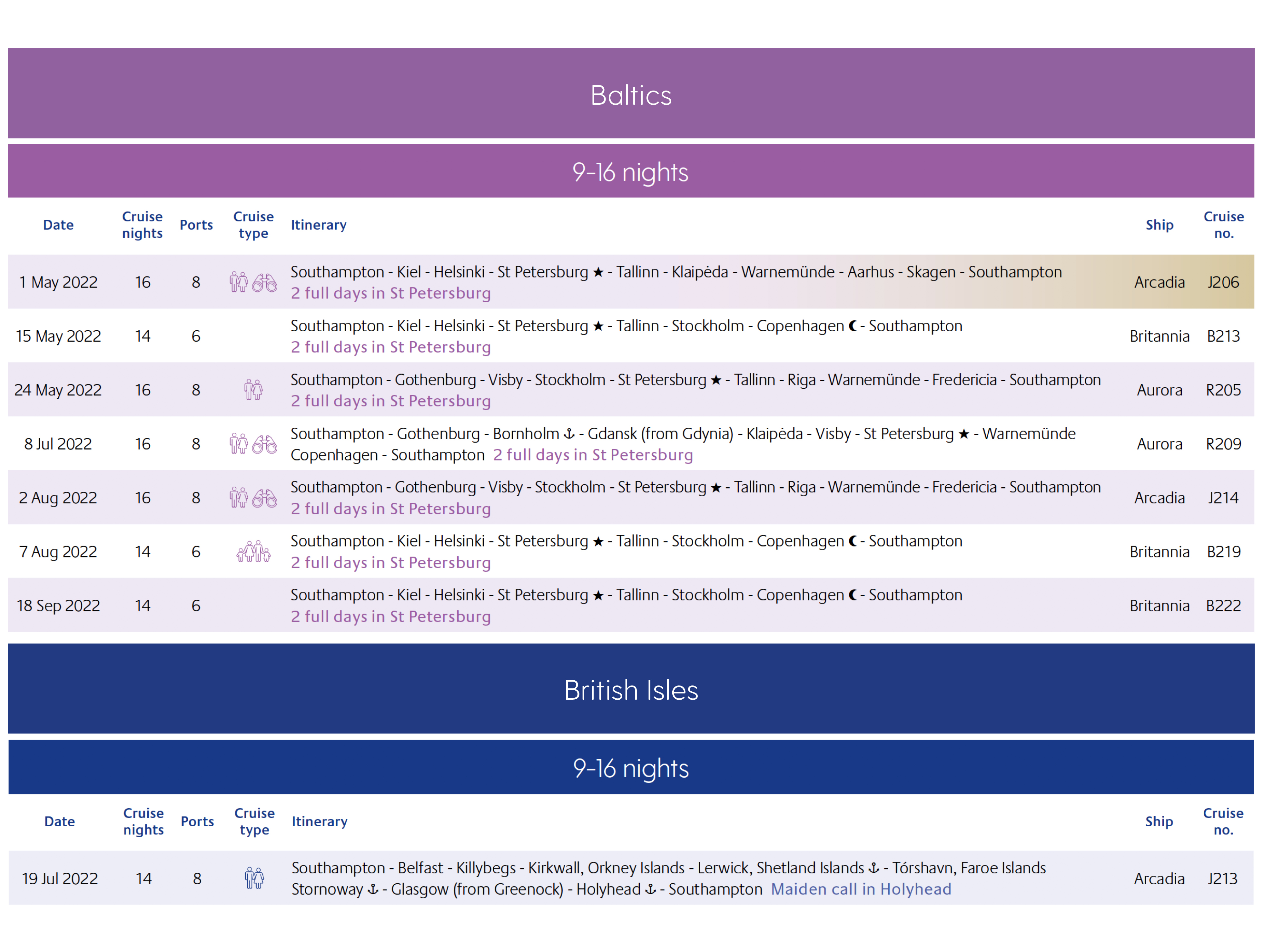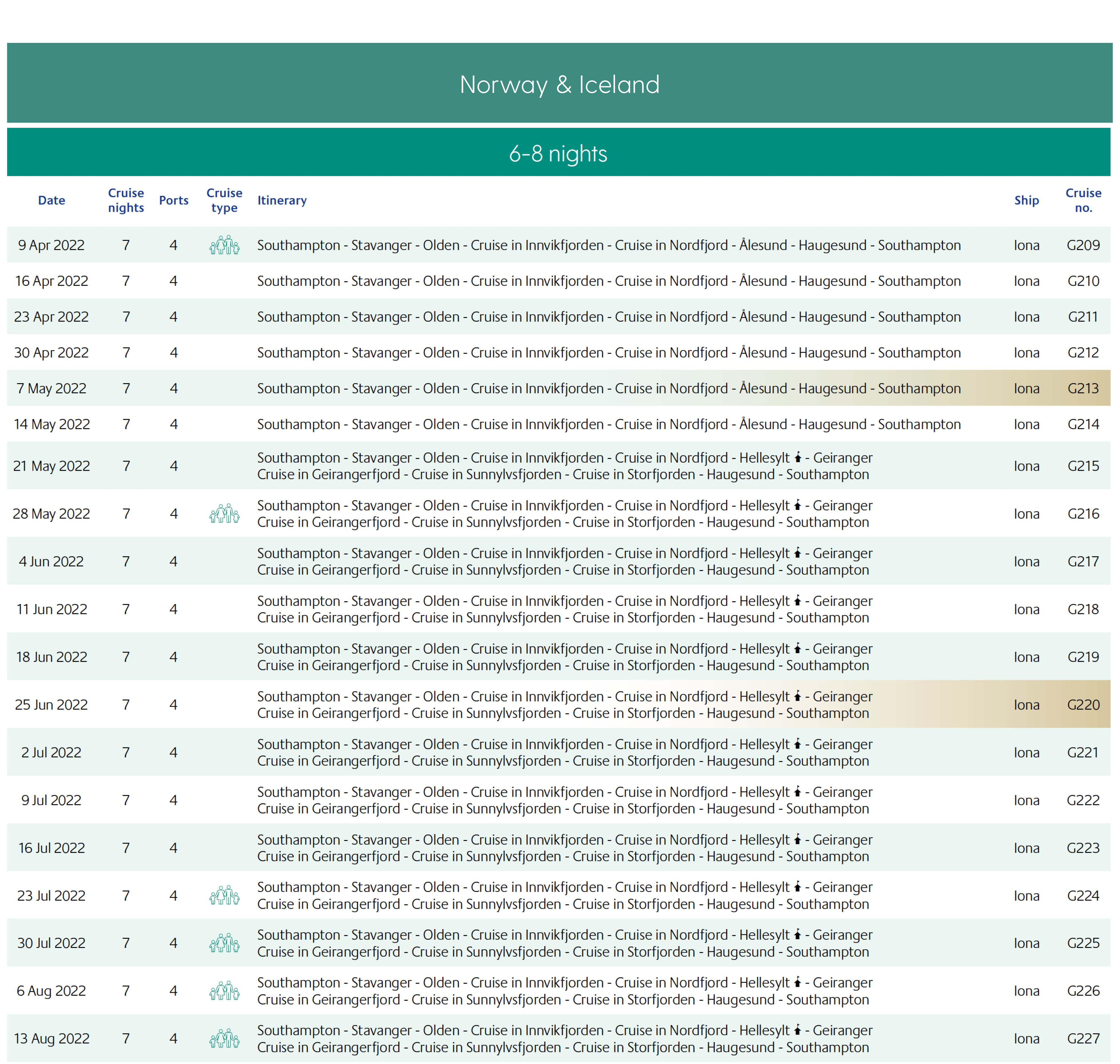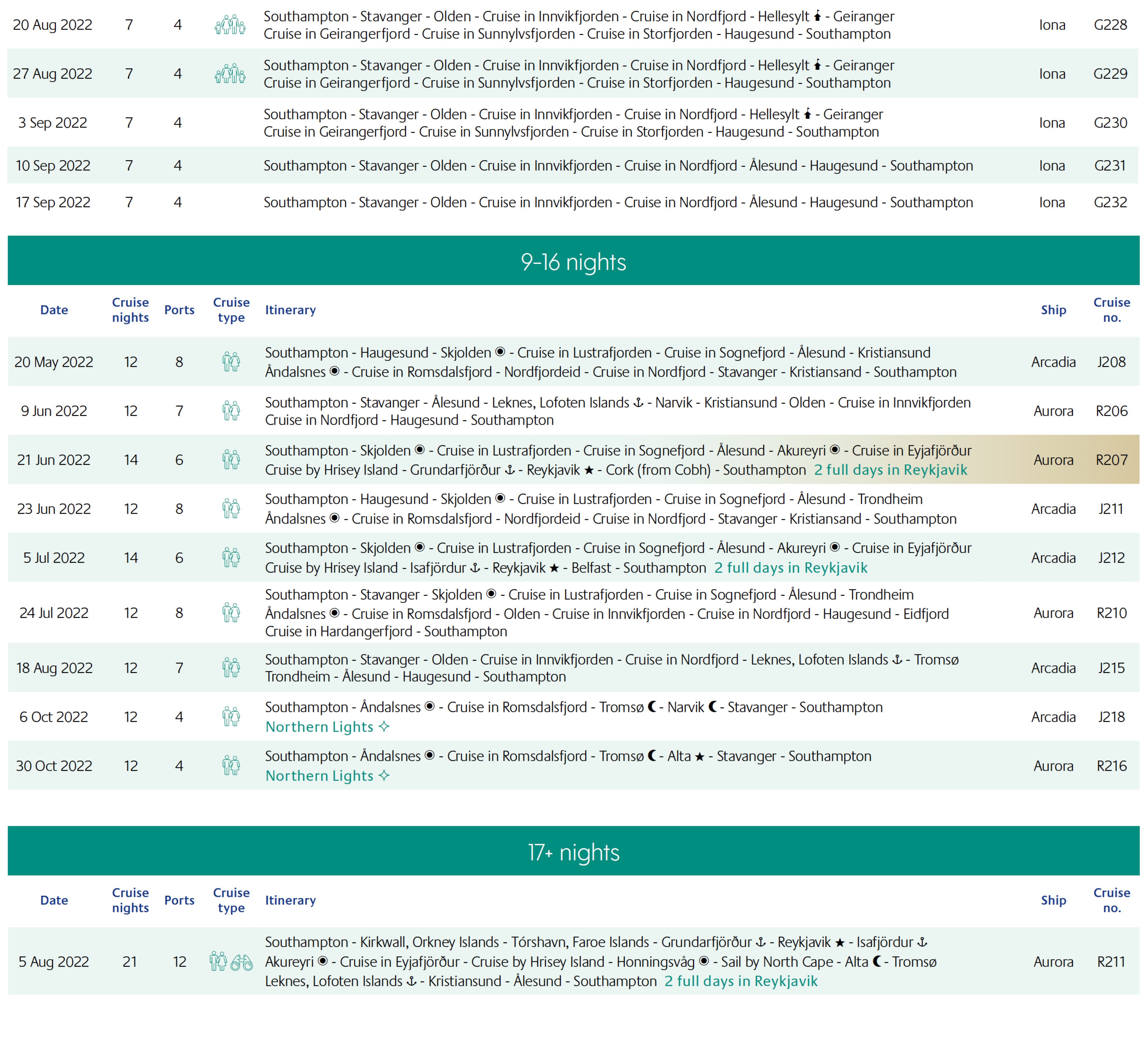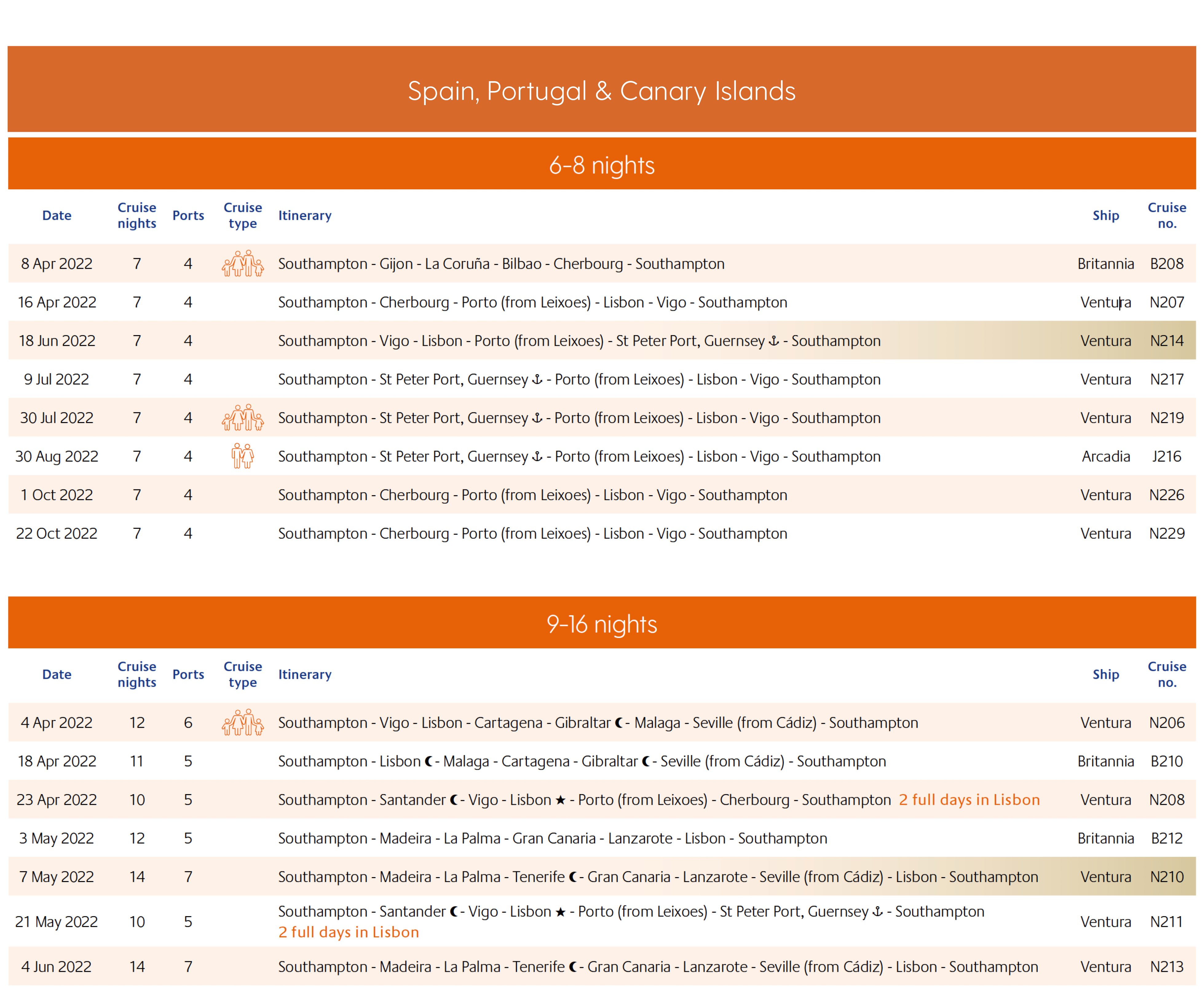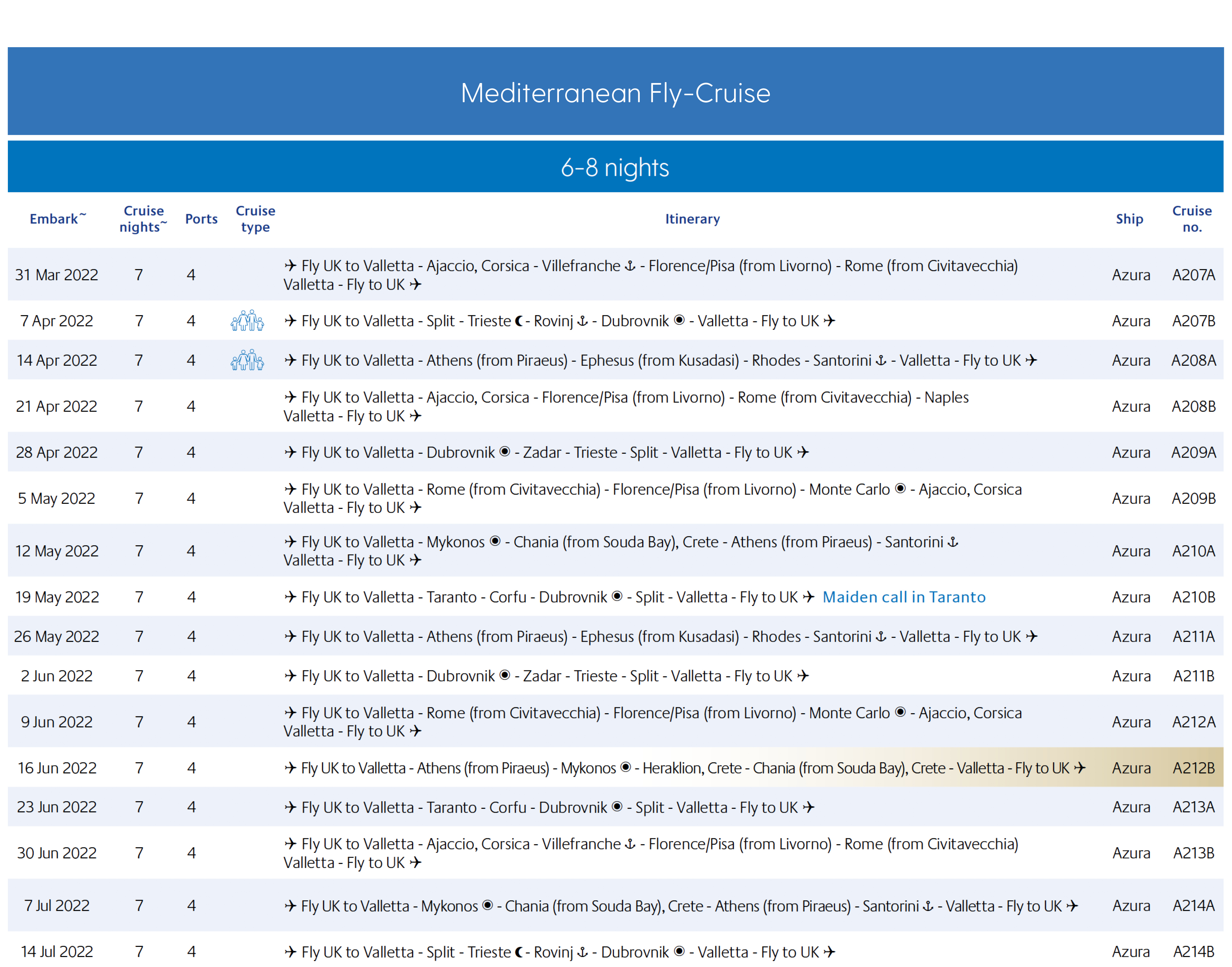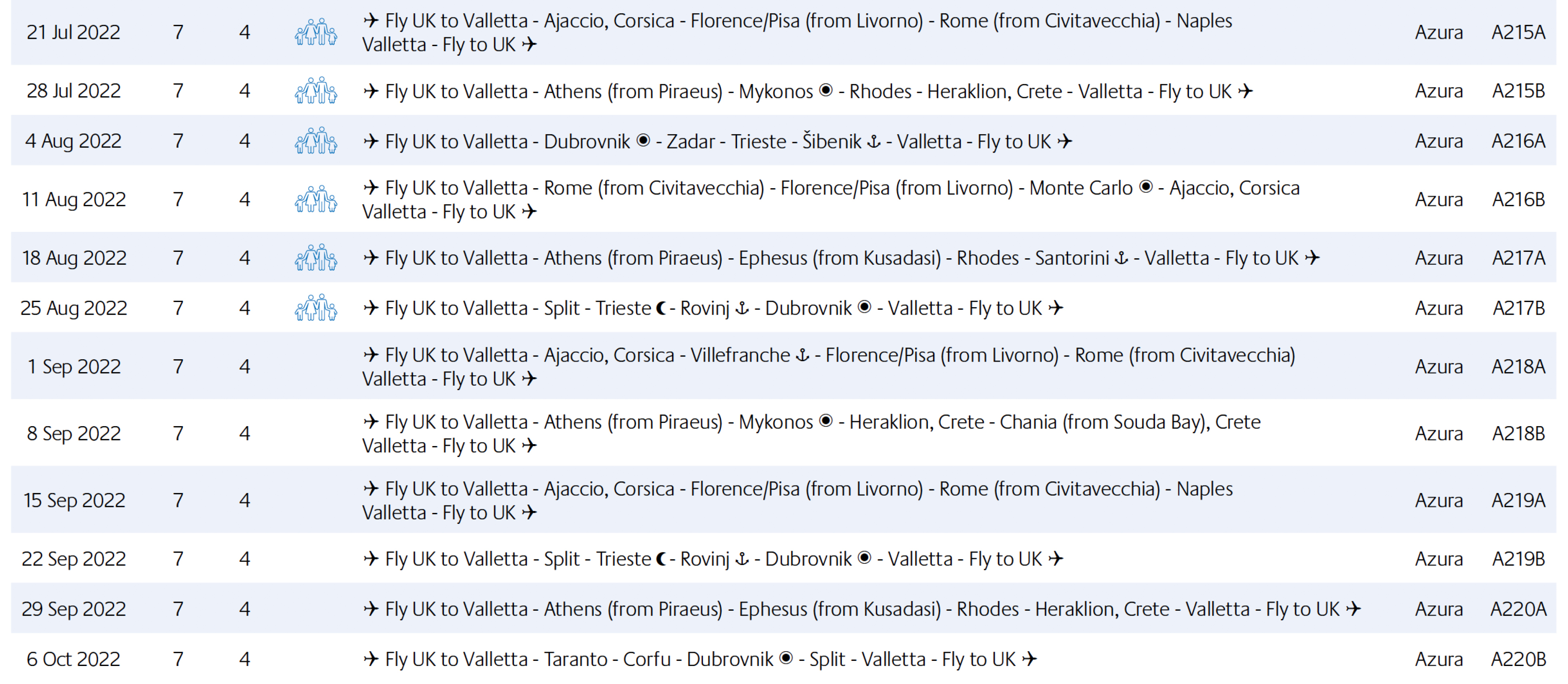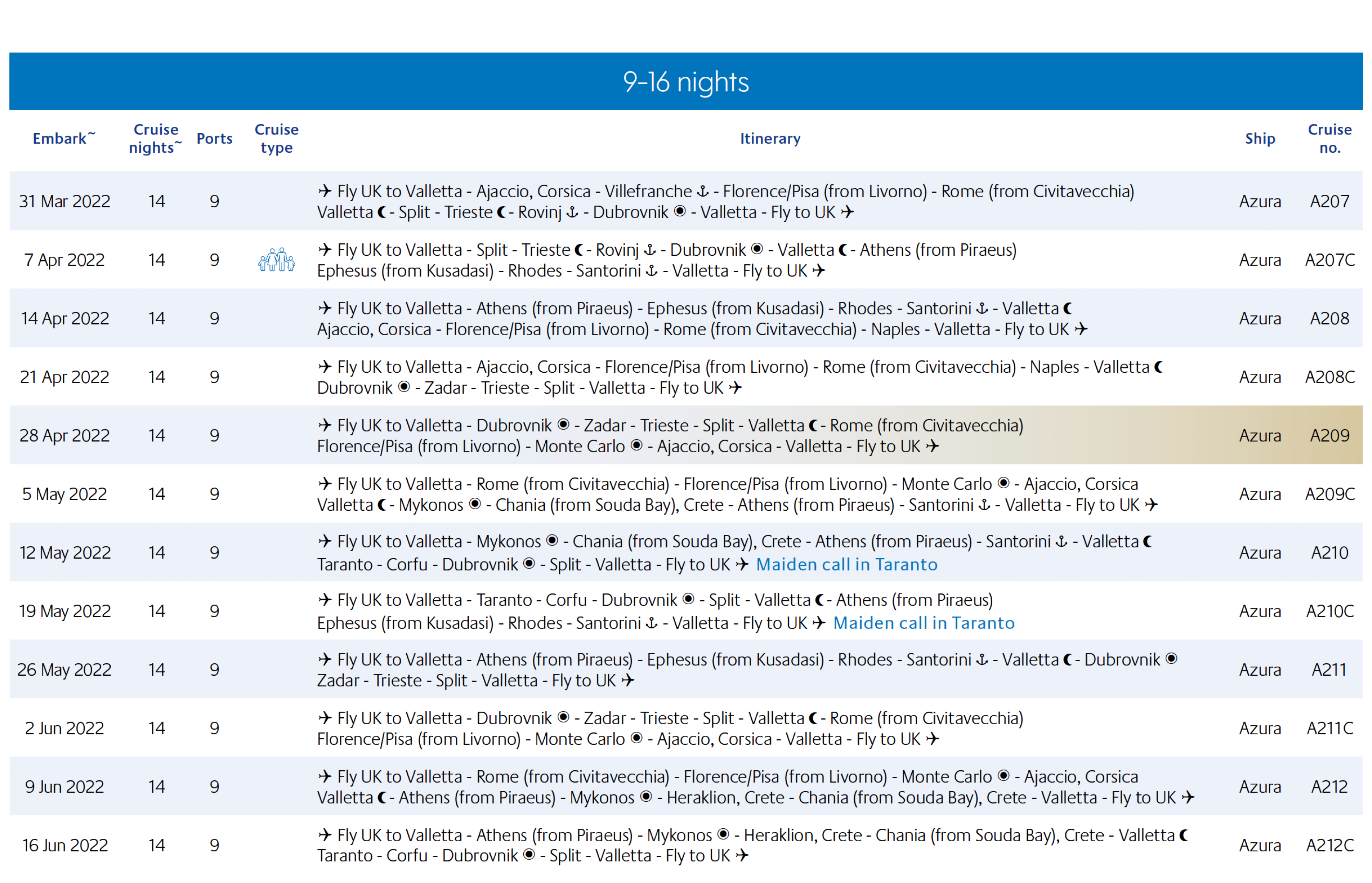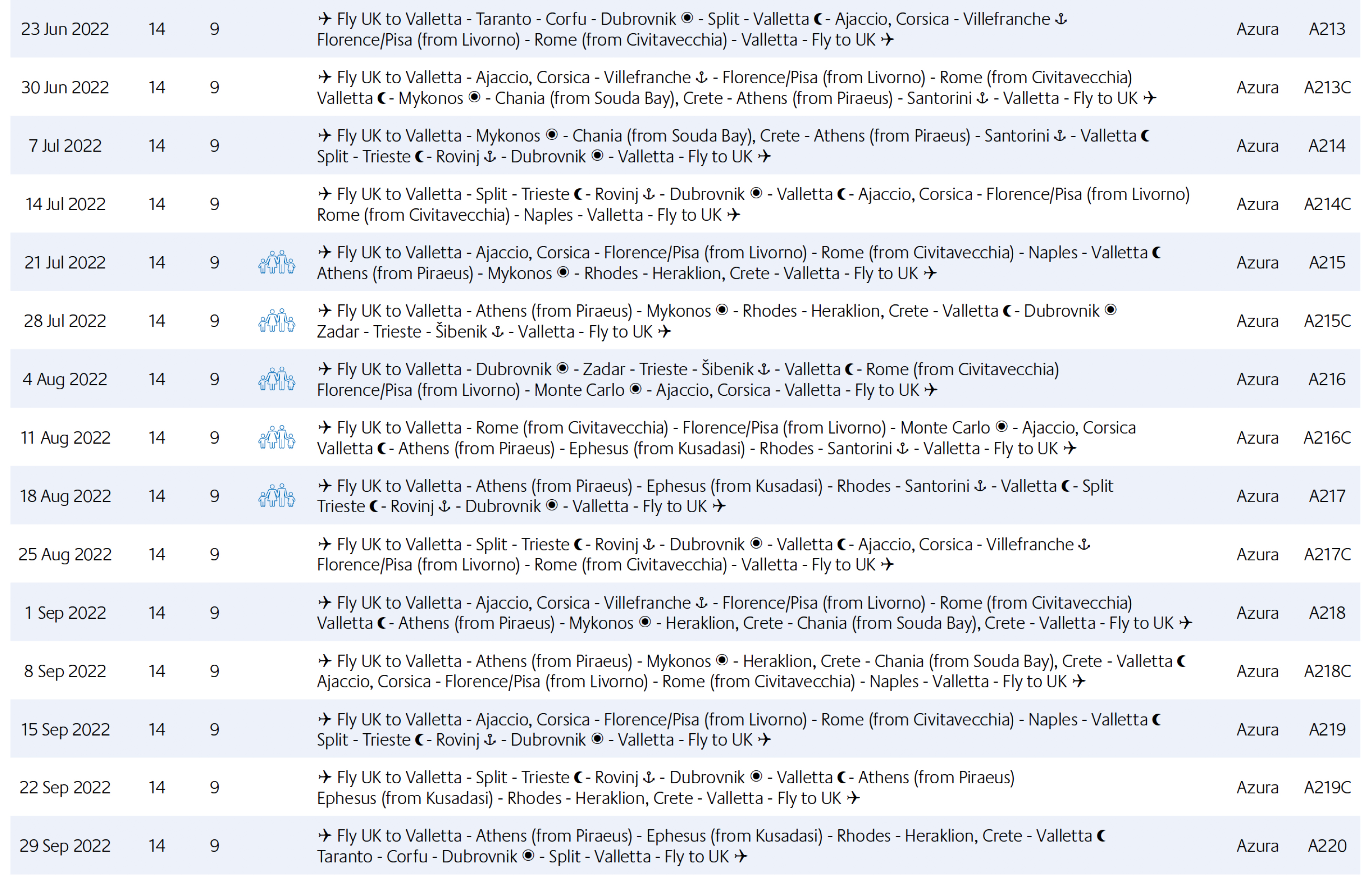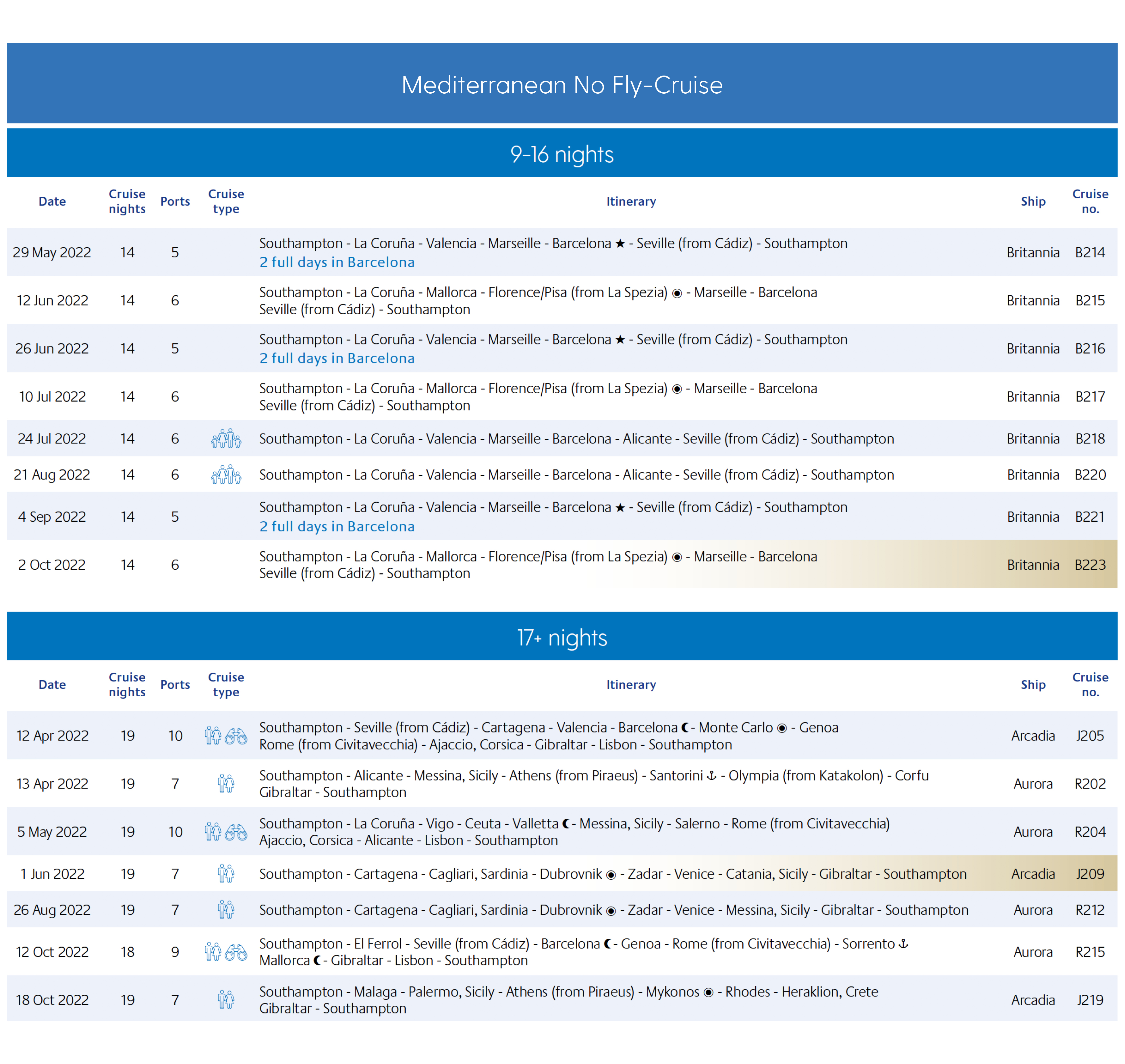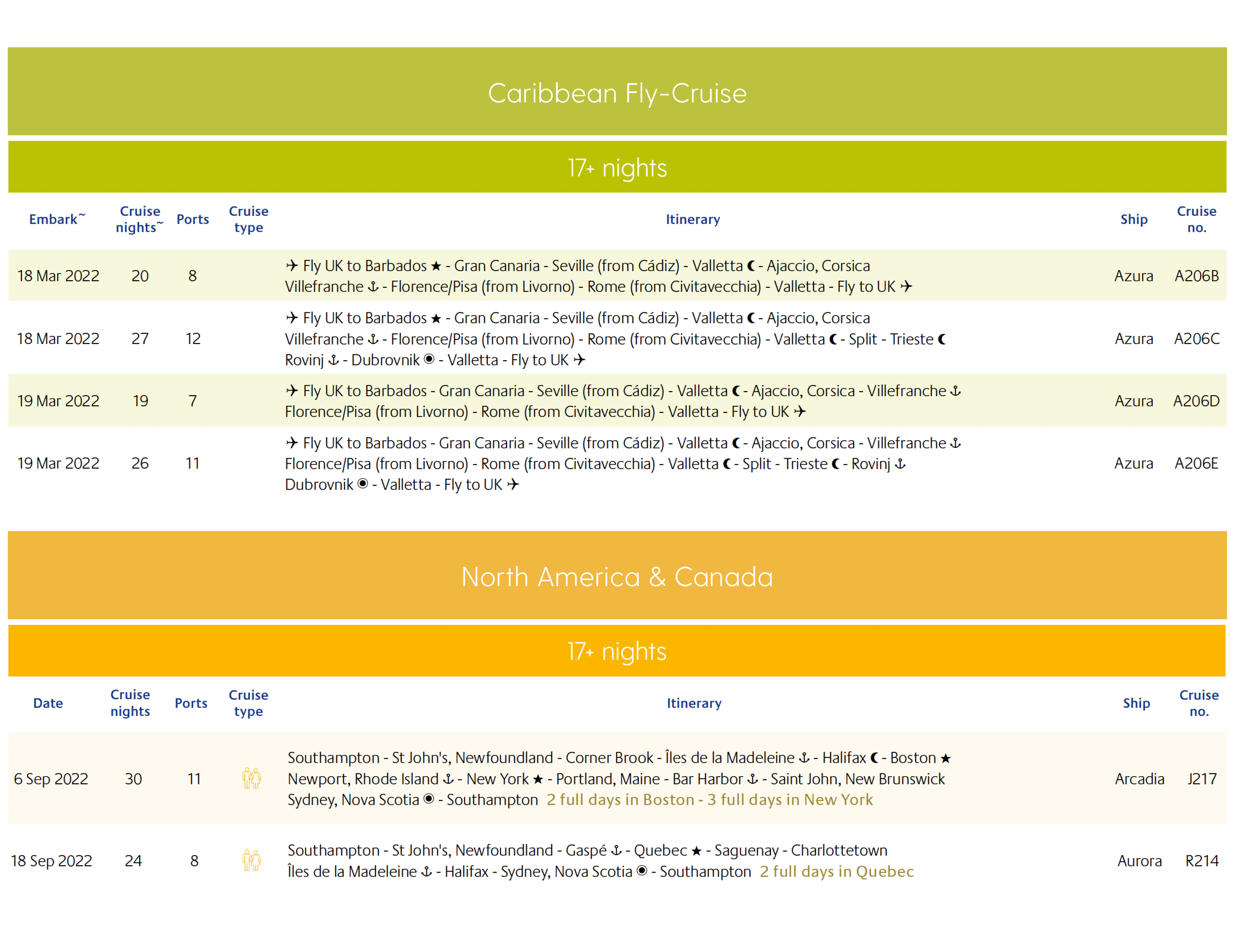 Destination: Iona
Sail aboard Iona
P&O Cruises know a thing or two about holiday must-haves and you'll find them all on Iona. She's designed to give you even more freedom and variety. With her exceptional range of accommodation, pools, shows, restaurants and shore experiences, you'll be spoiled for choice.

And her greatest feature? She's built for travellers. You'll sail on the first British cruise ship to be powered by liquefied natural gas – a significant reduction in carbon emissions that will allow us to enjoy more responsible travel for years to come.
Conservatory Mini-suites
A brand-new style of accommodation, Iona's Conservatory Mini-suites give you more room to enjoy the spectacular views that await you each day of your holiday, as well as many of our Minisuite benefits. You can relax in the additional living space between the room and balcony, bringing the outside in via floor-to-ceiling windows.

This space can be closed off or left open according to the time of day or mood. Perfect for a morning coffee with a view while everyone else is sleeping. Or for chilling out in the evenings with pre-dinner drinks.
Explore a breathtaking wonderland
In summer 2022, Iona will set off on her 7-night cruises to Norway's deep-blue fjords. This enchanting region might at first seem miles from anywhere you know… but you'll soon find that it's exactly where you want to be. Marvel at the sky-high, sheer cliff faces, at times just metres from your ship. Feel the hairs rise on the back of your neck as the crashing sounds of cascading waterfalls fill the air.
Food Heroes
P&O Cruises are collaborating with leading local chefs to bring incredible food experiences to your holiday on board Iona. Their Local Food Heroes use locally sourced ingredients, traditional recipes and menus bursting with authentic flavours, so you can continue your exploration in the meals you choose. Kjartan Skjelde will bring the taste of the Norwegian fjords to Iona's summer holidays with a bespoke six-course taster menu in Epicurean.
Sky Dome
A major new entertainment venue called SkyDome will be one of Iona's star attractions. Set on decks 16 and 17 and featuring an impressive roof and a pool with a retractable stage, it offers a unique space whatever the weather and the time of day. By day, SkyDome is the perfect place for relaxation and informal dining, with a swimming pool, whirlpool spa and poolside features, and shaded seating areas. By night, it comes alive with aerial performances, immersive shows and deck parties
Dining – the world on a plate
Head to Ripples, Iona's family-friendly gelateria on Promenade Deck or Sundaes in SkyDome where P&O are partnering with Snowflake Luxury Gelato – an award-winning company with an innovative streak. There's far more on offer than stylishly served cones: you'll find gelato cakes, sundaes, customisable sticks and cookies. And for the ultimate experience? A three-tiered gelato afternoon tea.